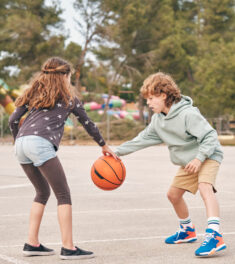 Training For The Next Level
Xtreme Hoops does basketball Training for young players for the next level, focusing on offense and defense skills.
Basketball Skill You Will Learn
We will help you improve shooting to make you a more accurate shooter.
Become better at controlling the basketball and using your dominant hand to dribble.
Improve your passing skills and rebounding skills.
Girls Hoops Clinic and Michelle Michael. I would recommend this clinic to anyone looking to improve their shot. She offers the technology to provide your child with the information he/she needs to correct or improve their shot.


Our daughter has been involved in the Extreme Hoops program for the last 2 years. Her court skills along with her shooting skills have increased ten-fold since joining this program. Her shooting percentage has doubled and has made a huge difference in her foul and perimeter shooting during her CYO & AAU seasons.
When my daughter first started playing basketball 4 years ago, she was great on defense, but her shot wasn't there yet. I took her to Michelle Michael's Xtreme Hoops program on a consistent basis and it made a huge difference. She was taught proper footwork, form, release, etc.
431 W Valley Forge Rd, King Of Prussia, PA
Clinics| Spring & Summer- Call For Private Training